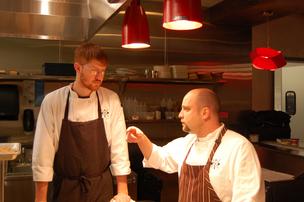 Stagioni will bring four seasons of rustic Italian food to Charlotte when it opens Monday.
That restaurant at 715 Providence Road intends to open for dinner service at 5:30 p.m.
Stagioni's name means "seasons" in Italian, and the menu offerings will reflect that, says Bruce Moffett, a chef and one of the owners.
"It's exciting to be able to source local farms and change our menu frequently," he notes.
Stagioni is the third venture for his Charlotte-based Moffet Restaurant Group, which also includes Barrington's and Good Food on Montford.
The menu will feature hand-made pastas, pizzas and specialties such chicken cacciatore and slow-roasted porchetta, a boneless pork dish.
"We're trying to take classic dishes and elevate them," says Larry Schreiber, executive chef. "We're just going to take everything to the next level."
He has worked with Moffett on a number of ventures over the last 15 years.
Stagioni will be roughly 3,400 square feet and seat 90.
It is located within the Tuscan-style villa in Myers Park, built by Blanche Reynolds in the 1920s. The space most recently housed a clothing store, Cinch.
It's taken nearly 15 months and $800,000 to transform that space into Stagioni, Moffett says.
The design focuses on the villa's history, particularly that of Reynolds, he notes.
For example, her love of angels is reflected with the wallpaper. Books are incorporated into the decor to note her love of reading. There's a sliding bookcase that harkens back to times of Prohibition - though now it hides the office, Moffett adds.
The ceiling features a black-and-white photograph celebrating the wedding of Reynold's son in 1943. The bar features the original beams and the fireplace.
"We kind of fell in love with their history," Moffett says, of the design. Jennifer Thomas covers health care, biotech, education and retail for the Charlotte Business Journal.